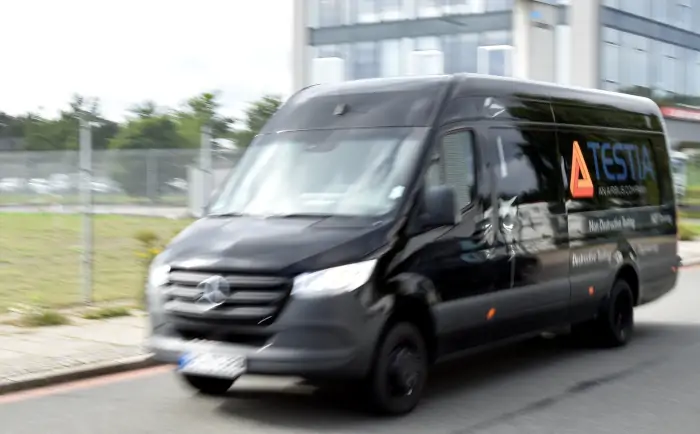 Testia's NDT inspectors provide a reactive and reliable service for our customers – and now they are even more flexible: Thanks to the new lab car of Testia Germany, the necessary inspection equipment quickly and safely arrives at the job site. We offer this reactive service for RT inspection and all other non-destructive testing methods.
The van contains everything needed for inspections, from test devices to lab equipment. This mobile service is offered Germany-wide for RT plus for all other NDT methods also in Austria, Switzerland and the Netherlands.
A Complete Lab on Wheels
The ample storage space of the vehicle contains a comprehensive set of inspection equipment. This ensures that the full process from testing to evaluation can be conducted on-site – efficiently and convenient for the customer.
The lab car carries test devices for all NDT methods, a development lab for X-Ray film and a working station for the evaluation of test results. The load compartment is suited as a dark room and thus provides the appropriate environment to handle X-Ray images.
Benefits of Mobile RT Inspection for Customers
Our NDT personnel is at your service for in-service and manufacturing inspection. The complete service can be offered on-site and the parts / components can remain on your premises.
We can cover a broad range of part sizes and geometries. Mobile RT inspection is especially suited for parts and structures that are not fit for transportation to our digital X-ray and CT inspection center in Bremen.
Please contact us for further information on our mobile NDT service or to request a quotation for RT and other inspection services (VT, PT, MT, UT, ET).