Testia celebrates turning 30 in November 2021. In this story you can discover how Testia has grown to become the end-to-end provider for structural integrity.
The Early Years: Three Pillars of NDT Services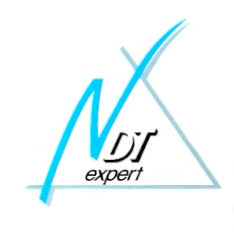 Our company's journey started  in 1991, when it was founded under the name of NDT Expert in Paris. Starting with a team of 11, the young enterprise offered services in three areas of non-destructive testing (NDT): inspection, training, and consulting. Whilst still at the core of Testia's portfolio 30 years later, these areas are now enriched by many more services and products.
In 1994, Testia moved from Paris to Toulouse. Since then, NDT Expert doubled the size of its team and its office until 2001. This growth was a sign of the years to come, when NDT Expert broadened its presence internationally and widened its product and service portfolio.
The Second Decade: Product Development and Solid Growth
In 2005 NDT Expert proudly launched its first self-developed product, the MoiréView – a device for quick and easy dent measurement. It was soon followed by a whole line of products, namely the LineView and ScratchView.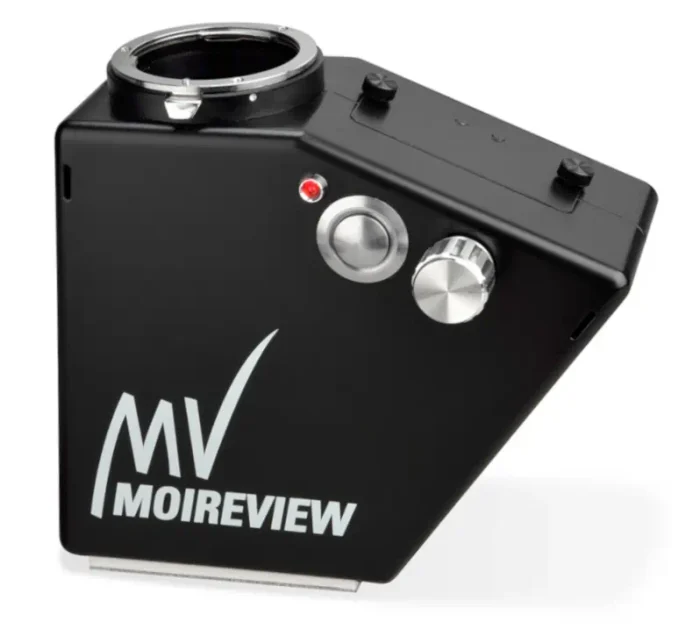 By developing their own devices, the team of NDT Expert at that time established the fourth line of business: Product Engineering. Since then, many products followed and to this day, Testia still strives to develop innovative solutions for the world of NDT. The core idea has remained – to propose user-friendly and reliable tools that live up to the highest inspection standards.
Moreover, our modern devices foster a fully digital workflow and traceability across the whole quality inspection process. This approach enables our customers to reach optimal cost-efficiency thanks to Testia's tools.
During the 2000s the company also made its first steps outside of France. In 2003, ANDTc in South Africa was founded as a subsidiary. There were new sites within France as well – Nantes and Île-de-France – adding up to a total of 80 employees in 2010. With the foundation of NDT Expert in Mexico in 2011, a rapid movement towards a global footprint began.
The 2010s: Developing a Global Footprint
2013 was an important year in the Testia company history. That year, the Testia holding was created to reflect the strategic growth: New sites in UK, Germany and Spain were founded. 2014, as a step towards harmonization across all international sites, NDT Expert in France also took the new name Testia.
Over the years Testia has extended its activities well beyond the Airbus group, where it originated. While still being an Airbus company, nowadays Testia offers its services and products to more and more aerospace companies worldwide – and a growing number of customers in other industry sectors, too.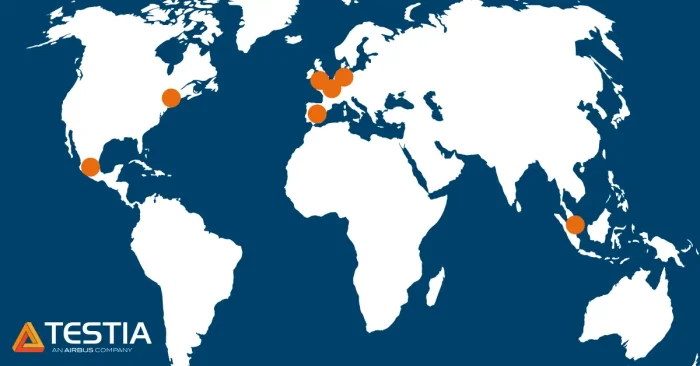 In the most recent years, Testia further developed its global presence. Important milestones were the creation of Testia Asia-Pacific in 2014 and the beginning of activity in Canada in 2018. Both these sites became legal entities in their own right in 2021.
Furhermore, Testia has made strategic acquisitions to diversify its profile: Structural Health Monitoring activities started in 2017 with the acquisition of HIM Stade (Germany) and in 2018 InFactory Solutions (Germany) became part of the Testia holding. Welcoming in experts from both companies for sensor technologies into the Testia family.
The Future
Currently, at the end of 2021, close to 400 employees work for Testia across 18 sites in 7 countries around the world. Thanks to our team, consisting of highly skilled experts in their respective fields, we proceed towards our vision to become the reference for structural integrity in aerospace.
With our core values – Excellence, Innovation, Integrity, Trust & Flexibility – Testia stands strong in an industry where it is crucial to comply with the highest standards and strict regulations. Testia also supports Airbus on the journey towards low-emission flying, with our fluid testing capabilities and structural health monitoring for hydrogen tanks.
We will continue to be a reliable service partner and develop innovative inspection solutions to the benefit of our customers: Brining enhanced reliability and cost-efficiency into your workshop!