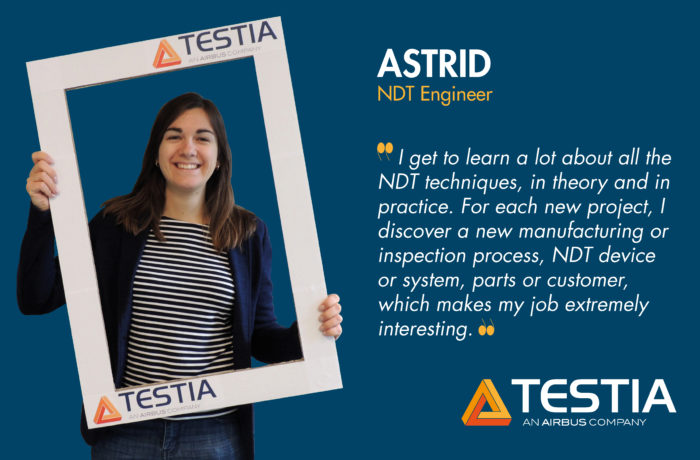 Astrid, NDT Engineer | NDT Engineering Team Leader
In the frame of my studies at the EEIGM (European School in Materials Science Engineering) in Nancy, France, I had the chance to perform my Master thesis at Airbus Operations in Bremen, Germany. During this one-year internship in the Materials & Processes department for NDT, I discovered the fascinating fields of aeronautics and NDT. By the end of this internship, I got the opportunity to start at Testia as an NDT Engineer, and am now Team Leader of the NDT Engineering activities in Germany.
Our team is focusing on the support of Airbus Companies or their suppliers for both manufacturing and In Service topics. One of my main tasks consists in the qualification of NDT methods against Airbus or other customers' regulations. I manage the whole qualification project, from the procedures writing in acordance with the specifications, to the qualification audit from Airbus Procurement Quality.
This job requires constant communication with the experts of other departments: inspectors, customers, Airbus Engineering, quality department…
Thanks to numerous interactions with the other departments, I get to learn a lot about all the NDT techniques, in theory and in practice. For each new project, I discover a new manufacturing or inspection process, NDT device or system, parts or customer, which makes my job extremely interesting. I appreciate the high standards required in the Aerospace industry, where the quality must be omnipresent.
To me, being a good engineer means having technical knowledge and social skills, but also to be willing to take responsibility. Yet the most important: he/she should never take his/her knowledge for granted, but be curious and open to learn from the experience of other colleagues.
To sum up my experience at Testia in 3 words: Multidisciplinarity, daily learning and international!