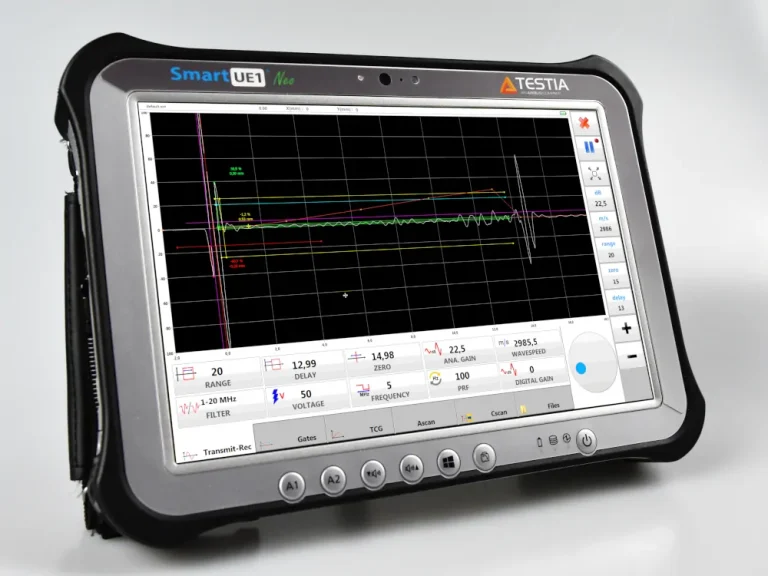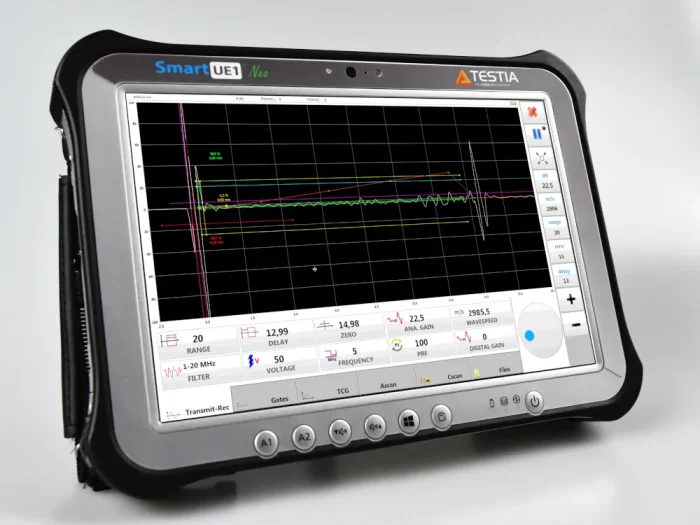 Testia is proud to announce that Airbus references the Smart UE1, our UT & ET (ultrasonic & eddy current) testing instrument, in now more than 170 NTMs (Non-destructive Testing Manual) to maintain Airbus aircrafts.
"Testia is ready to demonstrate the equivalence of the Smart UE1 with any of the other UT/ET instruments in other NTM procedures, as long as this is permitted", says Guillaume Ithurralde, Testia CTO. As he points out, "this is especially interesting to provide a modern alternative for discontinued equipment. We will do our best to rapidly define the right set-up, share it and release one equivalence report signed by one of our level 3 certified experts."
Interested airlines and MRO companies can email their request to smart-ue1.support@testia.com, specifying the reference of the NTM procedure.
Contact us for further information
Our Smart UE1 is inspection's Swiss Army knife: a multi-methods aerospace-dedicated tool boosting efficiency in all your daily operations. Stay tuned for more news and upcoming features of our Smart UE1!
NTM procedures referencing the Smart UE1
Find below the list of all NTM procedures for Airbus aircrafts that reference the Smart UE1 (as of August 2023):
NTMs for A318 / A319 / A320 / A321
51-10-32-270-801-A01
53-21-55-250-801-A01
53-22-05-250-801-A01
54-51-80-270-801-A01
54-52-05-250-801-A01
54-53-08-270-801-A01
57-11-24-270-801-A01
57-11-24-270-801-B01
57-11-25-270-801-B01
57-11-47-270-801-A01
57-11-64-250-801-A01
57-11-73-270-803-A01
57-11-75-270-805-A01
57-11-81-270-801-A01
57-11-81-270-802-A01
57-11-82-270-801-A01
57-11-82-270-802-A01
57-12-02-270-801-A01
57-12-02-270-801-B01
57-12-02-270-802-A01
57-12-02-270-802-B01
57-12-03-270-801-A01
57-12-03-270-801-B01
57-12-03-270-802-A01
57-12-03-270-802-B01
57-12-04-270-801-A01
57-12-04-270-801-B01
57-12-04-270-802-A01
57-12-04-270-802-B01
57-29-15-270-801-A01
NTMs for A330
51-10-32-270-801-A01
53-11-08-270-802-A01
53-11-55-270-802-A01
53-11-55-270-802-B01
53-11-63-270-801-A01
53-11-77-270-801-A01
53-11-79-270-801-A01
53-11-95-270-801-A01
53-11-96-270-801-A01
53-19-79-270-801-E01
53-19-79-270-801-F01
53-19-84-270-801-A01
53-30-09-270-801-A01
53-30-10-270-801-A01
53-30-17-270-801-A01
53-30-17-270-801-B01
53-30-18-270-801-A01
53-30-18-270-801-A01
53-30-23-270-801-B01
53-30-28-270-801-B01
53-30-30-270-801-A01
53-30-30-270-801-B01
53-30-30-270-801-C01
53-30-33-270-802-A01
53-30-50-270-801-A01
53-30-54-270-801-A01
53-30-55-270-801-A01
53-30-60-270-801-A01
53-30-70-270-801-B01
53-30-71-270-801-A01
53-30-72-270-801-A01
54-54-13-270-801-A01
54-54-14-270-801-A01
54-54-15-270-801-A01
54-54-16-270-801-A01
54-54-19-270-801-A01
57-11-32-270-801-A01
57-11-33-250-801-A01
57-11-68-270-802-A01
57-11-74-250-801-A01
57-11-74-250-801-B01
57-11-74-270-801-A01
57-11-79-270-801-A01
57-19-91-270-801-A01
57-20-86-270-801-A01
57-20-86-270-801-B01
57-20-96-270-801-A01
57-61-14-270-803-B01
57-61-21-270-801-A01
NTMs for A340
51-10-32-270-801-A01
53-11-55-270-802-B01
53-11-95-270-801-A01
53-30-09-270-801-A01
53-30-10-270-801-A01
53-30-17-270-801-A01
53-30-17-270-801-B01
53-30-18-270-801-B01
53-30-18-270-802-A01
53-30-23-270-801-B01
53-30-28-270-801-B01
53-30-30-270-801-A01
53-30-50-270-801-A01
53-30-54-270-801-A01
53-30-55-270-801-A01
53-30-60-270-801-A01
53-30-70-270-801-B01
53-31-34-270-801-A01
53-38-06-270-801-A01
53-38-39-250-801-B01
53-38-45-270-801-A01
53-38-46-270-801-A01
53-38-46-270-801-B01
53-39-08-270-801-A01
53-39-26-270-801-A01
53-39-31-270-801-A01
53-39-32-270-801-A01
53-39-33-270-801-A01
53-39-34-270-801-A01
53-39-36-270-801-A01
53-39-36-270-802-A01
57-11-32-270-801-A01
57-11-68-270-802-A01
57-11-74-250-801-A01
57-11-74-270-801-A01
57-11-95-270-801-A01
57-18-25-270-801-A01
57-18-26-270-801-A01
57-61-14-270-802-A01
57-61-14-270-803-B01
57-61-21-270-801-A01
NTMs for A350
51-94-23-00001-355A-A
52-82-73-00002-353A-A
53-3X-XX-00002-353A-A
53-3X-XX-01001-355A-A
53-3X-XX-02001-355A-A
53-3X-XX-03001-355A-A
53-3X-XX-03002-355A-A
53-3X-XX-04001-355A-A
53-3X-XX-05001-355A-A
53-3X-XX-06001-355A-A
53-3X-XX-07001-355A-A
53-3X-XX-08001-355A-A
53-3X-XX-08004-355A-A
53-3X-XX-09001-355A-A
57-11-XX-01001-355A-A
57-11-XX-02001-355A-A
57-54-63-00001-355A-A
NTMs for A380
51-10-32-270-801-A01
53-11-02-270-803-A01
53-11-10-270-801-A01
53-11-17-270-801-A01
53-11-18-270-801-A01
53-11-20-270-801-A01
53-11-30-270-801-A01
53-11-32-250-801-A01
53-11-32-270-801-A01
53-11-34-270-801-A01
53-31-04-270-801-A01
53-31-12-270-801-A01
53-31-27-270-801-B01
53-31-37-270-801-A01
53-31-42-270-801-A01
53-31-53-270-801-A01
53-31-58-270-801-A01
53-31-60-270-801-A01
53-31-61-270-801-A01
53-31-62-270-801-B01
53-31-63-270-801-A01
53-31-64-270-801-A01
53-31-72-270-801-A01
53-31-75-270-801-A01
54-51-03-270-801-A01
54-52-16-250-801-B01
54-52-16-250-801-C01
54-52-17-250-801-B01
57-21-05-270-802-A01
57-21-10-270-803-A01
57-21-12-270-801-B01
57-21-18-270-801-A01
57-21-18-270-803-A01
57-21-18-270-805-A01
57-21-18-270-806-A01
57-21-19-270-801-A01
Visit the Smart UE1 product page