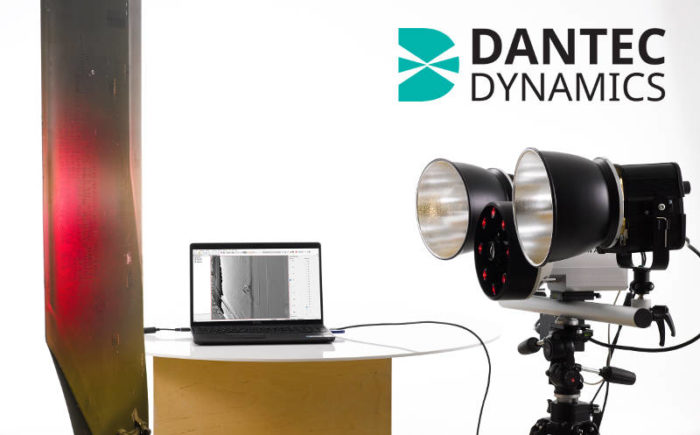 Testia UK recently established a partnership with Dantec Dynamics, to provide NDT training courses and level 3 services for shearography inspection. Thanks to this collaboration, participants at Testia's training centre have access to the most advanced shearography equipment currently available on the market. Customers of Testia's inspection services as well will benefit from this cutting-edge equipment of our NDT personnel.
Shearography is a non-destructive testing method to detect sub-surface discontinuities. By applying stress to the material surface – for instance vacuum or thermal excitation – the surface will react differently to this stress when a defect can be found in the structure underneath. By monitoring the reaction and comparing it across the material surface, the area(s) of defects can be measured. Learn more about the shearography inspection method on Dantec Dynamics' website.
A partnership for shearography inspection services and training
"We are very happy about the cooperation with Testia," says Christoph König, International Sales Manager at Dantec Dynamics, "The combination of know-how transfer, training, process- and quality standards together with our state-of-the-art, field-tested shearography systems will enable the participants to enhance their inspection capabilities with an advanced NDT method which is fast, non-contact, visual and very low false call rates, offering new test options and considerable cost savings."
"High end, technologically advanced equipment is an asset to any training course and showcases the testing method in its best light," adds Robin Bilney, NDT instructor at the Testia UK Training Centre, "Testia's shearography courses utilise the latest cutting edge instruments; encompassing the most recent innovations, backed by a long established manufacturer at the top of its game."
Training courses for shearography inspection are provided by Testia UK upon request – for more information please refer to our UK Training Centre catalog for 2021–2022.
Contact Testia UK or your local Dantec Dynamics representative to find out how you can benefit from our new strategic partnership.
About Dantec Dynamics:
Dantec Dynamics develops and manufactures measurement systems that determine physical properties in fluids and in solid structures. They deliver turnkey as well as customized solutions with user-friendly software.
Furthermore, clients benefit from superior technical application support worldwide. They gain accurate measurement results easily and quickly, which help to accelerate the pace of discovery, innovation, quality control or NDT.