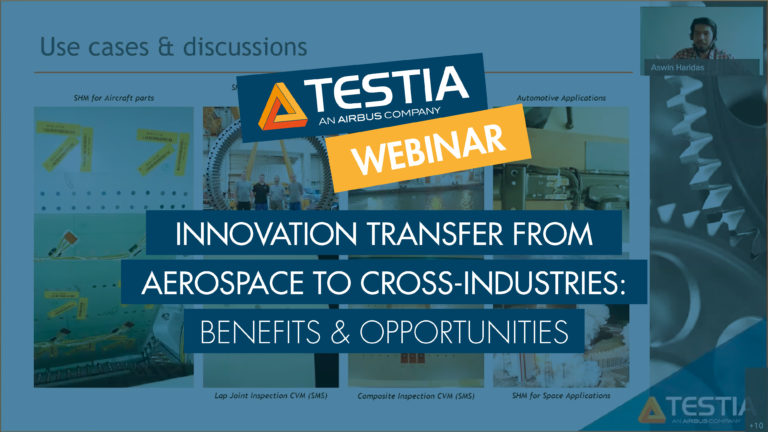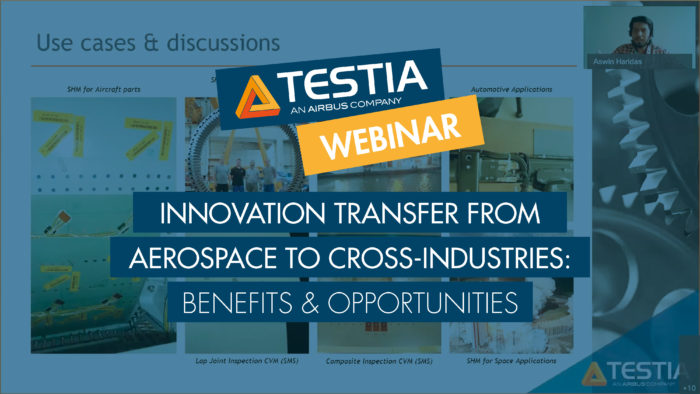 Testia has over 25 years of experience in Aerospace – and this Testing expertise can also be very valuable in other field. Find out more about this cross-industry innovation in Testia's most recent webinar "Innovation Transfer from Aerospace to Cross Industries: Benefits & Opportunities"
Testia was recently invited by the Non-Destructive Testing Society Singapore (NDTSS) to give a live webinar. Our experts from around the globe showcased how Testia's products and services can make use of the knowledge transfer from Aerospace to provide cross-industry innovation.
The event, including a Q&A session with the audience, took place in late August 2020 for the Singaporean NDT community via live video stream. After an introduction by Dr. Sajeesh Kumar Babu (President of NDTSS), the webinar focused on four areas of Testia's solutions.
FOUR EXAMPLES FROM OUR CROSS-INDUSTRY INNOVATION PORTFOLIO
For this collaborative event, Testia created a tailor-made technical seminar for the audience composed of NDTSS members. It focused on four areas:
Digital continuity
The NDT world is evolving fast and Testia strives to develop new methods to connect the dots: a fully digital workflow from detection to reporting, called Inspection 4.0.
It includes digital inspection tools, sharing the data via a dedicated database, digital support (via Remote Assistance) up to digital reporting.
All in all, Testia follows a holistic, integrated approach according to the individual needs of your company – across all industrial sectors.
Solutions for composite inspections
Within the realms of Composite inspections, Testia offers three areas of solutions: software, dedicated tools for specific applications and technological bricks for NDT-customised solutions (e.g. inspection machines that can be tailored to the customers' needs).
The solutions can be applied for different use cases in manufacturing, maintenance or both. Although originally designed for Aerospace, they are very versatile and can be applied in other sectors as well. This is especially true for some industries where certified NDT inspectors are rare: Testia's products provide accessible yet reliable tooling for non-NDT personnel.
SHM is a powerful method for the continuous monitoring of structures with a wide range of applications – a true cross-industry all-rounder. Applicable scenarios include for example transportation (automobile, trains, ships, aircraft…) or civil engineering (bridges, building structures) and many other structures on either larger or smaller scales.
The monitoring is based on an integrated sensor system that measures the physical condition of a structure autonomously. Testia's services cover all steps of SHM, from consultation to finding the right type of sensors, sensor installment up to data analytics.
This is a mixed reality solution for manufacturing and inspection with CAD data. The process can be done completely paperless thanks to the SMR software, which results in a fully digital workflow and a huge time reduction. The application can be customised according to the customers' needs and can be run on HoloLens, tablets, PCs and projectors.
To watch the whole webinar, click on the video link below:
Should you be interested in a similar cross-industry innovation webinar for your company or institution, please contact us at the bottom of this page.

TESTIA'S ACTIVITIES IN SINGAPORE & ASIA-PACIFIC
Over the past few years, Testia has developed its footprint in the Asia-Pacific region with the opening of a site in Singapore. We offer our activities from India to Australia and New Zealand, as well as in China, and work together with main actors in the region: ST Aerospace, SIAEC, Bombardier Aviation Services, GMF Aero Asia, Jet Aviation, Rolls Royce, HAECO.
Our Singapore Team is able to provide all the products and services of Testia's portfolio in this region. This includes BINDT Training, NDT Inspections (EASA/FAA Part 145, etc.), Responsible Level 3 services, Research and Development, Consultancy and Equipment Sales. Our local team of experts is comprised of Steven Crummack (working Level 3 and Head of Training), Alain Clauvelin (Level 2 in five NDT methods), Dr. Chan Siang Chak (Head of Region) and Maxime Bellocq (Technical Sales Manager).