In our article series "Testia Experts", we present short interviews with our employees – the experts that really make Testia what it is. This time, Erika San José Sánchez shares with us a typical day in her job as HR & Finance Manager at Ensia, the Spanish subsidiary of Testia.

Hello Erika, could you please give us an overview of your job?
My position consists of two areas: I am in charge of financial controlling as well as human resources management at Ensia, the Spanish entity of Testia. So I handle a variety of tasks such as employee management and everything that entails contracts, payroll and social management. I joined Ensia in July 2018 as the Head of both departments, Finance and HR.
How does a typical workday look like for you at Testia?
In the morning, we usually start with our team organization meeting to discuss the work distribution for the day. Then I have several other meetings almost all morning. Inbetween, we have a coffee break with the team.
At lunch break, I like to eat together with my colleagues and exchange the news and anecdotes of the day. Usually we eat in the break area of our office, but once a week we go out for lunch. The work environment at Ensia is very good: Made up of a very nice variety of people. We can trustingly share our concerns and experiences.
My afternoon is for more administrative work, file work and certain Testia transnational meetings. Concerning my financial tasks, the daily work to achieve the proposed objectives is very satisfactory, as well as the different audits. The greatest satisfaction of my job from the HR point of view is the feedback, which we get from employees via both the annual interviews and also renewals or other meetings with them.
How important is collaboration in your job and with whom are you closely working together?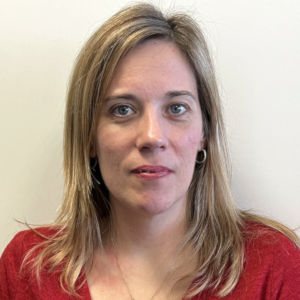 My most important day-to-day contacts are my finance partner and our managing director. Between us we have to share and discuss a wide range of topics. Additionally, the reality in our office is that many things are shared in person directly between colleagues from different departments. One of the exceptional things at Ensia is that we all have a very good understanding of the topics that all our colleagues are working on. We like to listen to each other and try to make decisions together.
The greatest satisfaction of my job from the HR point of view is the feedback, which we get from employees
What was a magical moment that you experienced at work?
For me personally, magic moments can happen every day, whenever I am challenged or get the chance to learn something exceptional. One big challenge is the adaption of a new HR management tool, for instance. The best moments are when we share experiences in the team and find ways to solve these challenges together.
Other great moments are team events that we have organised both at Ensia and on the global Testia level. For example, we had an incredible christmas dinner with speeches from various employees and an escape room challenge.
---
Are you interested in also becoming a Testia expert? Visit our career page to find out about our current job offers!