In our article series "Testia Experts", we present short interviews with our employees – the experts that really make Testia what it is. This time, we speak with Camille Bossard, who leads the team for hardware development and manufacturing at Testia in Toulouse.
Hello Camille, what is your job at Testia?
I'm in charge of the mechanical design office and the production of Testia equipment. In the team that I am leading, we are 9 people, including trainees.
To summarize my job in three words: Innovation, Design, Industrialisation
How did you find this job?
I was recruited 10 years ago. I had the opportunity and the desire to join Testia because I was working in a large group and I wanted to join a smaller structure, while being involved in its development.
Before I joined Testia, I already had a few steps on my career path: I did an advanced technician's certificate in Industrial Microtechnology Design in a small town called Prades, which then led me to Toulouse where I started my career in a start-up company specialising in telecommunications. Next, I worked for a company that develops and designs pool cleaning robots, where I was a design draughtsman, responsible for the continuous improvement of equipment and the design of pool robots.
After this, I joined Testia as a product developer. At the time, there were only 4 people in our team and I was in charge of both the hardware and the assembly, i.e. the production of the equipment.
7 years ago, Testia's business grew strongly, the products were selling more and more. We recruited more personnel for our team, so it was necessary for me to delegate the hardware-related tasks to be able to manage the team properly. This step has enabled me to progress within Testia, since over the last 5 years I moved up to the activity manager position.
These different experiences have enabled me to acquire new skills, both technical and management-related, which now support me in my current role.
What does your process look like when you design a new product?
The first stage is to draw up the specifications, with a "functional analysis" that focuses on all the resources needed to design the product. This phase enables us to determine how we are going to meet our customer's needs according to various criteria.
Next, we start the design phase with development and design prototyping, which allows us to materialise the product and find out whether it meets the expected specifications. This part allows us to check the ergonomics of the product – we brainstorm with the expert teams and advanced users to improve the handling of the equipment.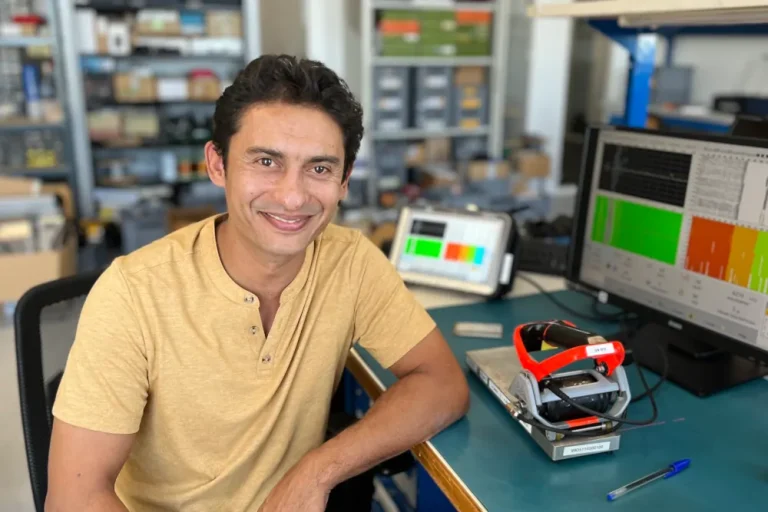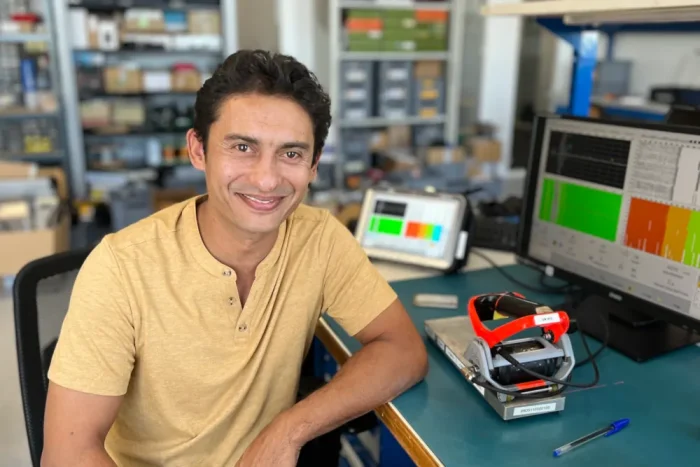 Once the ergonomics have been validated, we move on to the styling phase, which involves working on shapes, colours, materials, etc. We need to ensure that each new product is in line with the identity of our other equipment ranges. This more creative part allows us to express our ideas and get into an interactive exchange with each other. As the opinion of all Testia employees is important, we send out an internal questionnaire highlighting our various ideas in order to gather everyone's opinions.
Then, after analysing this feedback, we move on to the industrial design stage to produce a "pre-series", i.e. a piece of equipment that will resemble the final product. This prototype helps us to carry out all the necessary tests and let the production operators validate the manufacturing and assembly. Also, we draw up the technical assembly instructions for serial production and identify any modifications that may be necessary for the final production of the product.
The final step of this stage is called the "critical design review", which determines whether the initial specifications have been met. Once this has been validated, the manufacturing and ordering process begins to generate the stock needed to launch production.
What was your most magic moment of teamwork at Testia?
Our team spent three years developing a product for Airbus, the "Line Tool" (distributed as "D-Lam Tool" by Testia), and it was the first time I was the person in charge of designing a piece of equipment at hardware level where I was able to really flourish! The crowning glory of this project was a prize: Airbus organises internal competitions for product innovation and development, and we won an award during a gala ceremony, so it was a truly magical and unforgettable moment!
Whether it's the team or the project, I can't take anything but positive things away from it!
If you could switch for one day, which other jobs would you like to try out?
In fact, apart from my work at Testia, I've been producing my own wine for 8 years now. The vineyard is located in Banyuls-sur-Mer on the Spanish border. I've been passionate about the world of wine and its values ever since I discovered it at my parents' house, who live in this region.
I met a lot of winegrowers who passed on their knowledge to me and taught me how to make wine. At the beginning it wasn't easy, but they encouraged me by allowing me to work together with them: I came in the winter to prune, I also worked at weekends and in the summer to pick grapes, etc. And one day, I took the plunge and started to produce my own wine.
Thanks for taking the time for this interview!
---
Are you interested in also becoming a Testia expert? Visit our career page to find out about our current job offers!