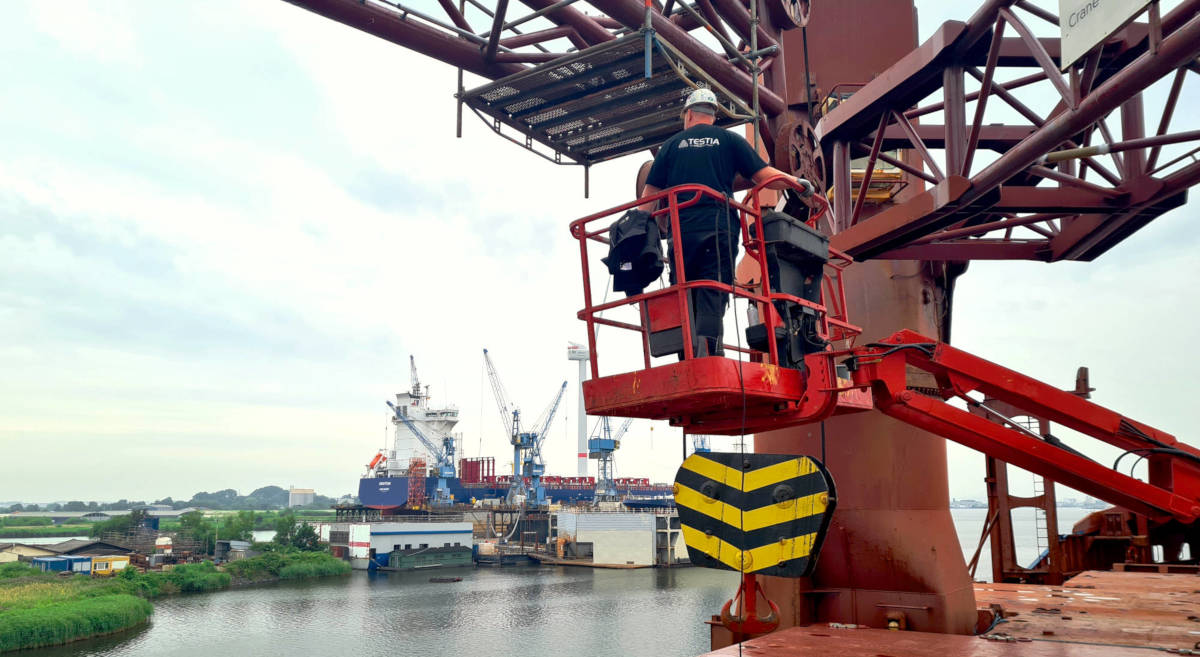 In May 2021, Testia was accepted as a new member of GICAN, the French naval industry group. We are proud to join this network and extend our activities in the field of NDT for the marine industry.
Over 200 members are part of the GICAN network, which connects companies involved in the design, construction, maintenance and implementation of military and civilian vessels, and those who work in the domain of maritime security and marine renewable energies.
Crossover opportunities between naval and aerospace
Testia's motivation as a GICAN member is to highlight crossover opportunities between naval and aerospace in the area of structure integrity – for both manufacturing and maintenance.
Our line of NDT products, for instance, was developed based on Testia's decades of experience in Aerospace and makes this knowledge also available for other industries. And with our inspectors, who are versed in all non-destructive testing methods for industry applications (ISO 9712), Testia is well equipped to provide services and solutions for NDT in the marine industry.
NDT for marine industry: Testia's products and services
Testia's products, solutions and services cover a lot of use cases of NDT for the naval industry, be it ship hull inspection, tanks and pipes inspection, digitalization solutions (Inspection 4.0), Structural Health Monitoring (SHM) on various structures and many more.
Here are some examples of the activities we performed for marine engineering, shipbuilding and other sectors of the naval industry:
Solutions development for offshore wind energy
Inspection data analytics solutions for oil & gas (with NDTkit software)
Digital Mock-up of ships and any other vessel for structural damage follow-up with our AssetManager
Inspection of race sailboats (for example for the Maître Coq team)
Infrared Thermography Inspection (IRT) of gas carrier tanks (on board during travel)
SHM on ship structures
Inspection services for shipyards, especially on engine parts and welds (RT, UT, MT, VT) for manufacturing and in-service
In the following overview you find key service areas where Testia can offer solutions for NDT in the marine sector:
Use cases:
Insurance disputes

Regular in-service inspections

Racing-boats, Military ships, Gaz-tanker etc.
Detection of:
Corrosion

Cracks

Delamination on composite

Water ingress

and more
Methods:
Thermography

Ultrasonic

Eddy current

Penetrant testing

Radiography testing (X-rays)

Shearography

and more
Welds analysis with NDTkit Software
Use cases:
Assembly and repair of hulls, pipes etc.
Detection of:
Lack of penetration

Cracks

Porosity & inclusions

Benefits:
Single software suite

Automated assistance to diagnosis & reporting

Plugin to 3DX (Catiav6)

Composite inspections with UT scanners
Use cases:
Manufacturing and repair of hulls, masts etc.
Detection of:
Foreign objects

Porosity

Delaminations


and more
Methods:
Ultrasonic (Phased Array)
Benefits:
Automatic detection & sizing on portable devices or robotized scanning for large areas

Automated assistance to diagnosis & reporting + plugin to 3DX (Catiav6)

Use cases:
Hulls maintenance
Detection of:
Thickness reduction

Exfoliation

Pitting


and more
Benefits:
Semi-automatic or automatic mapping of large areas

Automated assistance to diagnosis & reporting + plugin to 3DX (Catiav6)

SmartMixedReality for manufacturing or in-service support
Installation
Inspection
Non-conformities management
Structural Health Monitoring
Predictive Maintenance for ship structures
Custom monitoring solutions, e.g. for hydrogen tanks
Health assessment of assets to support future structure design improvements