We are proud to announce that Testia's global quality management system is certified to ISO 9001:2015 and EN 9100:2018 by Bureau Veritas.
As a company with worldwide activities, Testia always strives for excellence and to further improve its processes. We have now, in April and May 2022, achieved certifications for our quality management system on a global level – eight Testia entities worldwide work under the same, harmonized quality system.
Find the certification documents on our dedicated page.
"With our group recognition as EN 9100 for services and ISO 9001 for products, Testia has reached a significant milestone in its transformation towards a unified and customer centric company, striving for operational excellence," says Testia CEO David Rottembourg,
"We see this as a major advantage to better serve our customers and to offer the best level of service and the highest maturity of products one can expect in aerospace, to the benefit of other industries as well."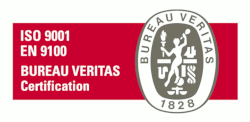 The scope of Testia's ISO 9001 and EN 9100 certification
The Testia quality management system certification comprises of two parts: Products and Equipment (according to ISO 9001) as well as Services (EN 9100 / ISO 9001) in the fields of structures and product integrity with a focus on aerospace. These cover the following areas of Testia's portfolio:
A collective success
All Testia employees, especially the quality team and transnational process leaders, have been working towards reaching this accreditation for more than a year: "We want to thank them all for their support in making this a reality and let's be proud of us!" CEO David Rottembourg adds.
Testia keeps committing to robustify and improve its processes, as we are currently working towards the ISO 17025 accreditation for our labs in Bremen and Toulouse.