How to cut your inspection costs with Testia's software NDTkit: Automated data analysis for ultrasonic testing.
A look behind the scenes at Testia is always insightful: Ingo Marx, Application Engineer at Testia, takes a look over the shoulders of experts from different departments and discusses with them about developing new products and services. Today he speaks with Joseph Seven who works on the deployment of new features for the NDTkit UT software.
Hi Joseph, I heard that Testia offers a "NDTkit" – what is it?
NDTkit is a software for automated analysis of non-destructive testing data. The version NDTkit UT is specifically fitted for Ultrasonic testing.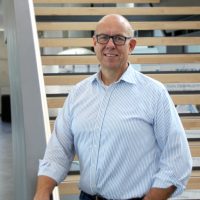 Just one Click for an Automated UT Data Analysis
How does the automated data analysis work?
First, you open the measurement data in the software, which creates its visualisation. Then our self-developed automated defect detection comes into play:
While analysing the data, the software finds and measures all material defects in the inspected part. This had to be done manually before, but it now works with a single mouse click. The inspection report is also generated automatically by the software.
For which inspection methods can I use NDTkit UT?
For all ultrasonic inspection methods with straight beam probes, for both single element as well as phased-array probes. It is also possible to process data acquired with air-coupled and laser UT. But the software is now also capable to collect data from angle beam probes – this is a feature we are about to include.
Furthermore, Testia offers NDTkit RT for radiography testing (x-ray). We're also working on developing new versions for other inspection methods.
Up to 70 % of working time saved
What else does the software offer?
It can create C-images really flexibly. The C-image is a graphic rendering that illustrates all defects of the inspected part to make the analysis easier. One advantage of our software is that it includes many features to analyse even complex component architectures automatically, using macros and scripts.
That much automation probably reduces inspection costs significantly, doesn't it?
Definitely! Of course, the advantage of NDTkit compared to manual analysis depends on the amount of defects in one part. We have projects where we only saved 30 % time, but also other projects with 70 % savings thanks to the automated UT data analysis! This project, initiated by Airbus and powered by Testia, convinced a lot of Aerospace suppliers which already are regular users of our software. Other markets get interested by the 'UT engine agnostic' and the productivity of this software: wind energy, oil & gas, nuclear, automotive, etc.
To find out more about the features and advantages of NDTkit UT, click below: